Mission
ISLP provides pro bono legal assistance to governments and civil society organizations in developing countries, leveraging global legal resources in alignment with client needs to support just, accountable and inclusive development.
more:
News Feed
ISLP in Albania
Former Chief Magistrate for England and Wales Howard Riddle has arrived in Albania to advise on the implementation of amendments to the bilateral agreement on prisoner transfer​ between the UK and Albania. Working with him is Albanian law enforcement expert Manuela Imeraj of the General Prosecutor's Office.
This excellent project is designed and funded by the British Embassy Tirana and forms part of the UK Government strategy to tackle serious organised crime activity in both jurisdictions.
Many thanks to everyone involved!
more:
less:
ISLP Myanmar Photobook Fundraising Event Success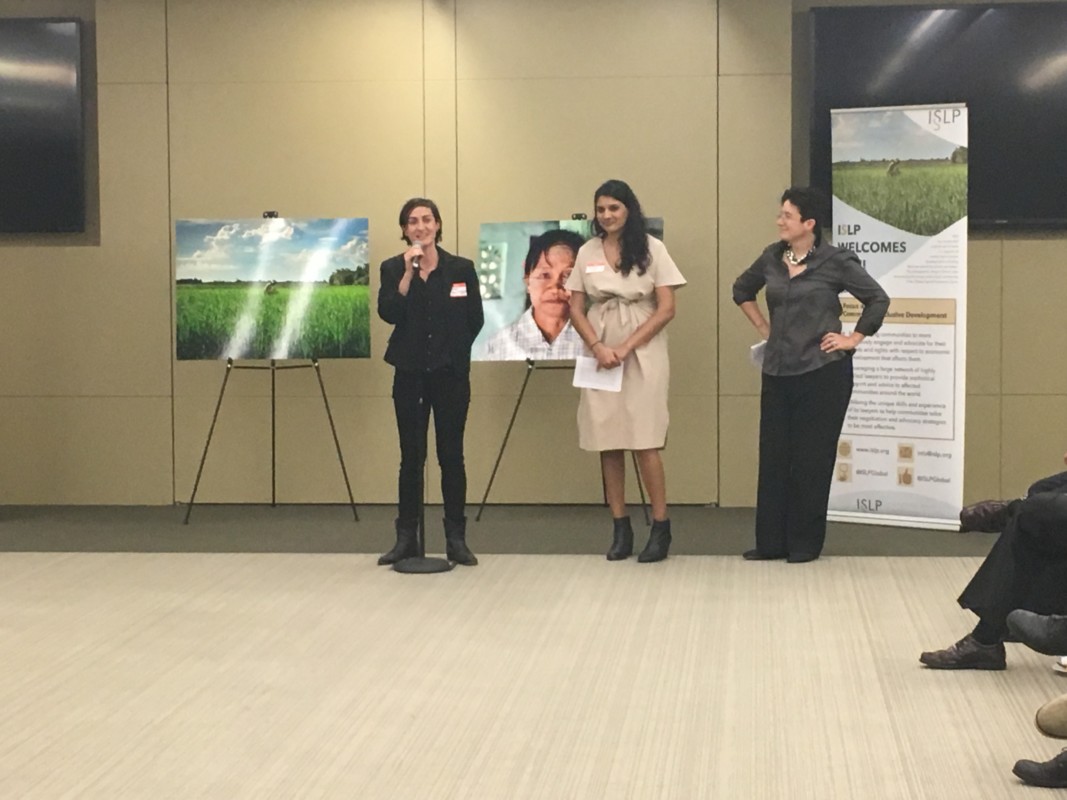 On Tuesday 5th December ISLP held an event to showcase the photographs that Megan Ghiroli took of the communities displaced by the the Thilawa Southern Economic Zone in Myanmar from 2015. Her Phonebook 'No Land, Nor Hands' was the result of her hard work and guests at the event, kindly hosted by Akin Gump, were given a copy to take away with them. 
Surrounded by some of the exquisite photography Megan, our Community Inclusive Development Director Monika Mehta and the Executive Director Katherine Mulhern all made short speeches about the project and the organisation and guests were then invited to mingle, chat to staff and admire the photographs. 
It was a fantastic evening bringing together guests from all of the sectors that our work covers, from Board Members to activists, lawyers interested in Pro Bono work to friends and family of staff.
Lisa Sweat, Director of Strategy, who was instrumental in the organisation of the event said:
"This week's fundraiser was a fantastic opportunity to meet ISLP friends and to present the brilliant photos that Megan took on her trip to Myanmar. I hope audience members took away an understanding of the real challenges people face when confronted by development but also the possibility that informed community-corporate engagement can help prevent some of the harms associated with development."
A big thank you to the team who organised the evening and to the guests who attended. We are looking forward to running events in the future. If you'd like more information on the event or the photographs please email us at info@islp.org and we will be happy to answer questions or put you in touch with Megan. 
more:
less:
New Home for ISLP UK
Today marked the first day for the ISLP UK team in their new and improved offices courtesy of Herbert Smith Freehills. With the impending closure of Development House, ISLP UK Executive Director Susan Hazledine sourced the new premises and oversaw the move. The new ISLP UK correspondence address is City Gate House, 39-45 Finsbury Square.London EC2A 1PX and for visitors, we are on the fourth floor.
The whole of ISLP would like to thank Herbert Smith Freehills for their hospitality and generosity at providing us our new home. We look forward to welcoming visitors, friends, clients and volunteers there in the near future!  
more:
less:
EU Awards Top Honors to ISLP's Pro Bono Lawyers
The training of Russian and Ukrainian media lawyers by ISLP volunteers Richard Winfield, Natasha Lisman, and Marietta Cauchi was awarded the highest score, A++, by independent European Union evaluators.  The ISLP training sessions were the leading component of the EU's multi-part €1.1 million Media Freedom Support project which ran for 30 months until March 2017.
Over a total of five weeks in those 30 months, Winfield and Lisman designed and conducted training of over 20 lawyers in Strasbourg; Winfield trained over 40 media lawyers from the former Soviet bloc in Kiev; and Winfield and Cauchi trained several Ukrainians in London.
Among other components of the Media Freedom Support project were training of journalists from Eurasia, developing online tools for the media, building capacity for NGOs, and providing financial help to embattled journalists.  IREX Europe, a Lyon-based NGO which helped implement the EU project, noted that the 37-page EU evaluation report "shows that your (ISLP's) excellent work trainings for media lawyer received the highest score by independent evaluators."
The EU evaluators concluded that ISLP's work "substantially exceed expectations."
Winfield and Lisman enlisted as co-trainers Judge Ganna Yudkivska (Ukraine) and Judge Dmitry Dedov (Russia) from the European Court of Human Rights, professional Registrars from the Court, and renowned European media and human rights lawyers.  The trainee lawyers received expert guidance in the press freedom caselaw of the European Court, and practical advice in handling appeals and amici curiae interventions in Strasbourg.
Winfield, a co-founder of ISLP, from New York, and Cauchi, from London, are co-chairs of ISLP's Media Law Working Group.  Lisman, from Boston, is a former ISLP director.  Acting pro bono, the ISLP volunteers, all deeply experienced litigators, worked closely with lawyers from two partner NGOs on the EU project, Mass Media Defence Centre (Voronezh, Russia) and Media Law Institute/Centre for Democracy and Rule of Law (Kiev, Ukraine).
The report, Independent Evaluation of Media Freedom Support, by Michael Randall and Zurab Kodalashvili, was published last month by the EU.
more:
less:
Lawyers: Guideposts On The Path To Remedy- ISLP/Accountability Counsel Think Piece
When attempting to provide remedy for communities harmed by corporate finance, creating fair, transparent, and effective agreements between companies and communities is the goal. But in many cases, the technical, legal, or operational tasks necessary to reach that end point are complex, often requiring support from outside sources.
The communities most harmed by international investment are poor and marginalized groups who may not be aware of the various resources available for them to ensure appropriate justice for the damage. Local populations also may not know from where the project that is harming them is getting its financing. If they are able to find out and wish to bring suit, entering the judicial processes almost always requires formal legal support. It is likely that communities are unaware that complaints can be filed to an accountability office with oversight for corporate investmsnet that might grant them some kind of remedy. And even if they are aware of project's investors and they want to file a formal complaint, the communities may still require legal or operational support to do so.
Whether filing a complaint or bringing a lawsuit the burden of establishing the facts of harm by companies or banks almost always falls on the vicitms of that harm. What accountability offices or courts consider harm and what evidence is needed varies based on juristdiciton. The skills needed in a courtroom or in a facilitated dialogue to demonstrate harm, might not be in ample supply in a community. Communities whose livelihoods are farming, herding or fishing could benefit from advisors whose lives are spent lawyering.
To help remove these impediments to remedy, legally focused civil society organizations play a central role in bridging the gap between harmed communities and the available processes used to access remedy. Legal support organizations and their lawyers provide information, preparation, and legal aid to marginalized communities to assist them in achieving justice when harmed by development projects.
In Accountability Counsel's ongoing work with nomadic herders in Mongolia harmed by the construction of a large mine financed by the International Finance Corporation (IFC), lawyers submitted a supplement to the herders' first formal complaint filed to the IFC's accountabiltiy office, the Compliance Advisor Ombudsman. Accountability Counsel's legal guidance allowed for the opportunity to improve on some of the herders' initial complaints to increase the likelihood of them acquiring appropriate remedy. Accountability Counsel also provided training and guidance to the herders to prepare them to conduct formal negotiations with the bank and mining company.
The International Senior Lawyers Project, advocating for community-inclusive development in Kenya, sent lawyers to assist local stakeholders in advocating for enhanced information-sharing with communities during an oil exploration project. Their support was influential in disclosure and discussion of potential changes with involved companies, seeking results that would improve the engagement of local communities in the project.
EarthRights International, as a legal organization protecting human rights and the environment, provides training sessions to local communities to give them useful knowledge to protect their rights, bridging the gap between local populations and the forms of remedy available to them. EarthRights also represents communities in judicial processes to seek justice for communities harmed by projects, providing the kind of international litigation skills that communites often don't have.
In the Democratic Republic of the Congo, Advocates for International Development have provided legal support to Indigenous Peoples whose land had been seized by the government and corporations for use in the extractive industry. The legal assistance provided by this organization and partners led to the drafting of legislation that would expand the rights of Indigenous Peoples living in the Congo. Lawyers proved influential in translating the desires of the Indigenous communities into true legal action.
The process of accessing remedy for communities affected by development projects is a complicated, there are many steps on the road to justice. One thing that is clear, though, is that the contributions of lawyers to the process are vital. Whether providing resources, training communities on their legal rights, or assisting with both judicial and non-judicial complaints the contributions of lawyers to the process of acquiring remedy for harmed communities is crucial.
With huge thanks to Monika Mehta, chairing the UN Forum Panel on lawyers ensuring access to remedy, which prompted this think piece and to Meredith Mackenzie at Accountability Counsel for her huge input into this extended analysis.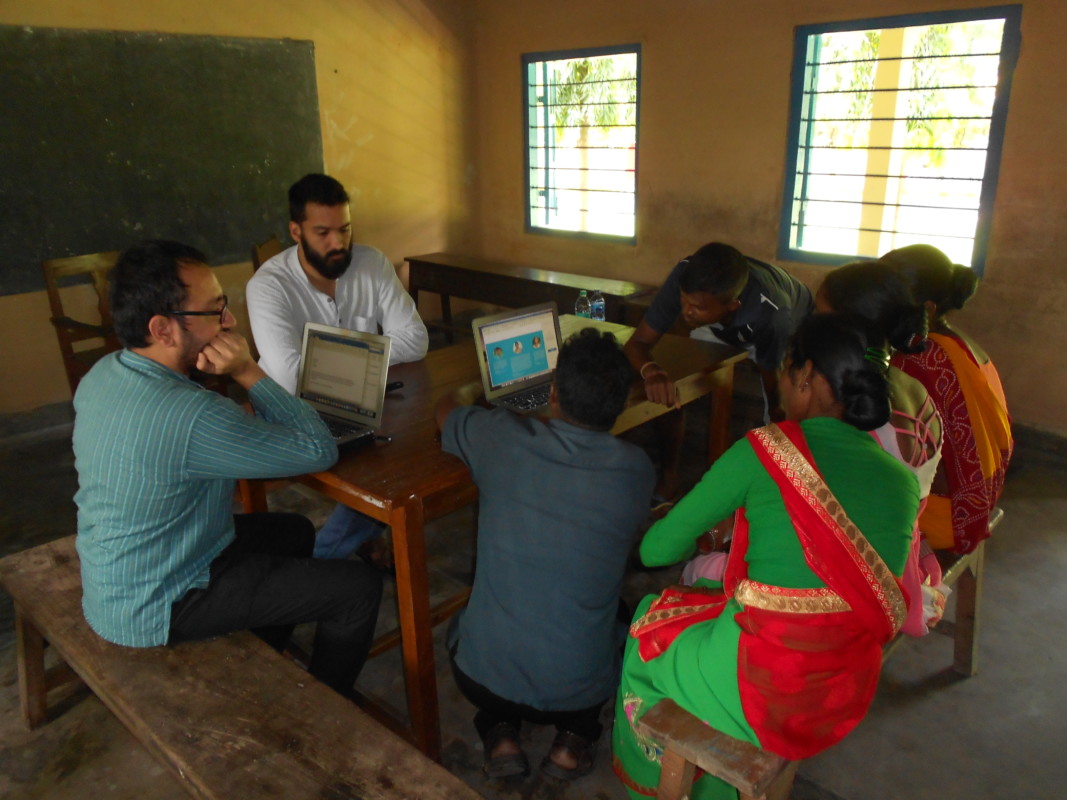 more:
less:
ISLP CID Director Chairs Panel Discussion at UN Forum on Business and Human Rights
Monika Mehta, Program Director for Community-Inclusive Development at the ISLP will tomorrow Chair a lunch time panel session on the role of lawyers in ensuring access to remedy at UN Forum on Business and Human Rights. 
The panel sponsored by the International Senior Lawyers Project will discuss how lawyers might advise their clients including civil society, community, government, and corporations, throughout the lifespan of large-scale, internationally financed, development projects in order to ensure community's access to appropriate remedy for current and future harms. As the role of business in ensuring human rights in investment and core operations continues to increase, legal professionals will be needed to facilitate the prevention of, and remedy to, harm.
Kindra Mohr, Policy Director for Accountability Counsel; Rocio Paniagua, Senior Legal Advisor for the International Bar Association; and Yasmin Batliwala, Chief Executive, Advocates for International Development will speak about their experience as lawyers in the development finance process.
Lawyers are present at every stage of a development project, and can provide strategic advice, prepare evidence and communications, gain access to critical information, and help prepare local communities for the possibility of litigation, mediation, or other non-judicial remedy mechanisms. Lawyers can also help structure and establish negotiations and grievances mechanisms, routes through which community members can seek remedy prior to the escalation of harms. The panel will explore the critical role of legal professionals in ensuring that human rights are protected in international development investment.
UN Global Forum on Business and Human Rights 2017
How Lawyers Can Help Communities Access Remedy
Where: United Nations in Geneva, room location TBA.
When: 28 November 2017 from 13:30 – 14:15
more:
less:
Global Reach
Over the past 17 years, with support from law firms, foundations and government agencies, ISLP has mobilized hundreds of experienced lawyers to provide more than $100 million worth of pro bono legal assistance in support of just, accountable and inclusive development in more than 80 countries.