Mission
ISLP provides pro bono legal assistance to governments and civil society organizations in developing countries, leveraging global legal resources in alignment with client needs to support just, accountable and inclusive development.
more:
News Feed
Community Inclusive Development Director needed to continue ISLP's great work!
ISLP will shortly be saying goodbye to our current Community Inclusive Development (CID) Director Monika Mehta and as a result are searching for someone new to fulfil this challenging and rewarding position. 
The new Director will be responsible for setting the strategic priorities for this global portfolio and leading a team of staff and volunteers who deliver legal services, capacity-building support, and tools to our clients. 
The CID Director will oversee ISLP's Community-Inclusive Development focus area, through which we work with development-impacted communities and the civil society organizations that represent them to ensure that communities' rights and needs are respected as large-scale development proceeds.  ISLP has active CID programs involving multiple clients, partners, and projects in Myanmar, Kenya, the Andean region of Latin America and in Papua New Guinea. S/he will be responsible for developing and implementing a strategic vision for this project portfolio while cultivating client and partner relationships, monitoring program impact, and supervising service delivery.  S/he will also need to maintain up-to-date knowledge of the relevant contexts in which we work, including with respect to important political events, key actors, and relevant legal and regulatory developments.
Given the nature of ISLP, the Director should be highly motivated, work well under tight deadlines, and be comfortable leading a small, dedicated, and highly skilled team in an informal, non-hierarchical, and fast-paced environment. Project management responsibilities of the Director will require thoughtful, diplomatic, and timely communications with high-level lawyers, foreign government officials, grassroots civil society organizations, international NGO partners, and others. Further, such responsibilities will require innovation, good judgment, and strong analytical skills, which will enable the Director to identify and pursue project opportunities and broader program-development initiatives that will advance ISLP's strategy and strengthen our organizational impact.
For more information on the role please click here. 
To apply: Please email a cover letter, resume, short writing sample, and three references to hr@islp.org by February 5, 2018.  Please reference "Director, Community Inclusive Development" in the subject line.
If you do apply, good luck! 
more:
less:
ISLP Co-Founder featured in Steven Spielberg's latest Hollywood offering "The Post"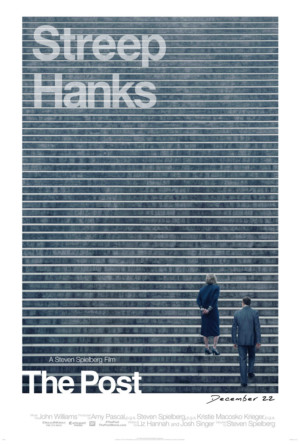 Tony Essaye, ISLP co founder, was one of three partners in the law firm, Rogers and Wells, who were deeply involved in the pre publication discussions between Kay Graham, Ben Bradlee and Washington Post editors, and the frantic 15 days of litigation leading to the historic Pentagon Papers victory in the US Supreme Court.
Steven Spielberg has recently completed filming a movie "The Post", retelling the story, which had its Premier earlier this week (see the trailer
here
). Tony, the only surviving lawyer, was consulted in the movie's preparation, and is portrayed in the film by Zachary Wood. Invited to Spielberg's private screening, he met and was congratulated by Meryl Streep, who plays the famous publisher Kay Graham who ultimately gave the green light to publish.
The Washington Post have reviewed the film and been in touch with Tony. You can read the article by clicking
here.
Everyone at ISLP would like to take this opportunity to congratulate Tony for his part in this and many other cases throughout his distinguished career.
more:
less:
ISLP to Provide IWMF Journalists with Pro-Bono Legal Support
The International Women's Media Foundation (IWMF) will be working with ISLP to provide pro bono legal advice, particularly around contracts, to the female journalists in IWMF programs. The service will be open to staff reporters and freelance journalists, who will particularly benefit as they often struggle to understand and negotiate financial and intellectual property rights terms.
"Journalists are rarely experts in contracts law. They often unwittingly accept unreasonable financial terms and take on personal risks. This partnership with ISLP will empower the journalists in our network to effectively bargain for what they deserve and to better understand what they are signing," explained Elisa Lees Muñoz, the IWMF's executive director.
Journalists will have access to expert legal services related to their work from our extensive and network of experienced volunteer lawyers.  The primary focus of this support will be the journalist's legal relationships with their employers and publishers.
"ISLP is committed to providing pro bono legal support to IWMF journalists and support staff where we are able, so that they can continue their excellent work unimpeded," said Katherine Mulhern, Executive Director of ISLP. She added "The ISLP has long respected the IWMF and has enjoyed working with them over the last year. For just, accountable and sustainable development to take place, citizens' freedoms and liberties must be maintained. A free and engaged international press is key to holding individuals, governments and civil society organizations to account, and the work of women journalists across the globe cannot be overstated."
To access this service, IWMF-supported journalists will need to approach IWMF who together with ISLP will screen those requests, and for cases they believe they can effectively handle, will identify volunteer legal counsel who can assist. We will also will co-host a series of webinars in which journalists will get real-time expert advice about their contracts, as well as briefings on legal trends.
We're really excited to be involved in extending our provision of legal support to such a great cause!
more:
less:
ISLP Board Chair Joe Bell has stepped down, with new Co-Chairs Chris Cross and Boris Dolgonos appointed
Joseph C. Bell has stepped down from his position as Board Chair of the ISLP, which took effect on 1st January 2018. One of the original directors of ISLP, Joe has been a board member for all 17 years of ISLP's history and its chair for the past two years.  The entire board of directors and staff thank Joe for his tireless energy and fantastic contribution to ISLP. He will remain on the Board until October 2018.
Addressing the Board and large family of consistent donors and volunteers, Joe said, "Let me take this occasion to thank each of you for your support, commitment and work over the last two years. Without that strong support I simply could not have managed. The work and activity of individual directors and the continued generosity and constructive input of the ISLP's supporters has been, and will continue to be, critical to meeting the challenges and opportunities ahead. I look forward to joining fellow Board members old and new in full support to the new leadership so that they, together with the staff, may realize the full potential of the volunteer lawyer resources at the heart of our organization."
Fellow Board Member, Ruth Greenspan Bell, highlighted Joe's considerable achievements with the organization and to pro-bono work in general. In 2010 he received the American Lawyer Life Time Achievement Award, and in 2015 the President of Poland awarded him the Commander's Cross of the Order of Merit for the assistance he provided in the early days of the transition and more recently through Board membership in the Polish American Freedom Foundation. In 2006 he also initiated and subsequently guided ISLP's considerable commitment to the democratically elected government in Liberia for which the organization was recognized with the nation's highest honor 'Knight Officer in the Most Venerable Order of the Pioneers of the Republic of Liberia' in 2017. 
Lois J. Schiffer, another Board Member, said "Joe's service to ISLP has been splendid. As a volunteer he improved the lives of many people worldwide though such work as renegotiating Liberia's mining contracts, to give the country's new government improved resources; the resources to improve the lives of its people. He stepped up to chair the Board at the important time of transition from the founders, and served with intelligence, commitment, and skill. ISLP is more effective and stronger for his service."
The ISLP Executive Director, Katherine Mulhern, thanked Joe for his efforts, "When I first joined ISLP as Executive Director, the organization was in a state of transition in a funding and development environment which was itself going through rapid and sometimes radical change. We have adapted and are now in an increasingly strong position to robustly meet further challenges. This could not have been achieved without Joe's sharp analysis, broad experience, patient guidance and support on the Board. Many thanks to him for the tremendous time and effort he provided to the organization, to me personally and to our excellent staff of professionals."
The new co-chairs of ISLP are Chris Cross and Boris Dolgonos, with Craig Owen White taking on the role of Vice Chair. Their biographies and relevent achievements can be viewed in the 'ISLP Board' section of our website.
From everyone at the ISLP we wish Joe all the best and look forward to working with Chris, Boris, Craig and the Board in 2018.
more:
less:
ISLP recruiting Kenya focused Consultant to join CID Team
ISLP is currently seeking to hire a highly motivated, creative and collaborative professional to lead a program of strategic legal assistance to empower civil society to advance equitable, sustainable, community-inclusive development in Kenya.
The Program
Through our Kenya Program, started in Spring 2014, we support vulnerable communities potentially impacted by large-scale investment and natural resource extraction projects by providing law-based solutions and legal tools. In late 2016, we also began working to support and advance impact investing in Kenya.
The Role
The Consultant will work mainly with our small and dedicated Community Inclusive Development (CID) team. S/he will work closely with our Director of Community Inclusive Development to further develop the Kenya program, and will be responsible for planning and attending meetings among clients, partners, and ISLP's staff and pro bono lawyers, organizing and implementing in-country events, such as training programs, and coordinating ISLP field work as necessary.  Although the majority of the CID work will be in Kenya, there may be some opportunities to travel to neighboring countries for related work.
The consultant will also provide support to ISLP's Impact Investing Program Officer.  This collaboration will offer an unique opportunity to participate on a range of work that promotes inclusive economic growth.  This includes, but is not limited to, initiatives that promote impact investing and other innovations in social finance, provide direct legal support to social enterprises, and build the legal frameworks needed to enable growth of small- and medium-sized enterprises with a specific focus on delivering social impact and social benefits in Kenya and possibly other neighboring countries. The consultant will support ISLP's impact investing work by helping develop field-building workshops, events, and tools that incentivize impact investments in East Africa; and by identifying opportunities to provide high-level strategic and structural support to enterprises that promote financial inclusion as a means to eradicate poverty.
S/he will be responsible for driving the Kenya programs in an extremely dynamic and fast changing environment.  Given that she will be working with a team based in New York and London, s/he will need to be a collaborative, detail-oriented self-starter who is willing to take on necessary tasks of all levels to meet the needs of the Kenya programs as they arise.
Further Details
Further details of the position and how to apply can be found here.
Please submit via email to hr@islp.org a résumé, brief writing sample, and cover letter containing a description of why you consider yourself to be the most suitable candidate for the assignment by January 26, 2018.  Because the preferred start date is as soon as possible, applications will be reviewed on a rolling basis.  Selected candidates will be contacted for an interview.
Good luck! 
more:
less:
US Treasury Imposes Sanctions after Congo Copper Sector Review
At the beginning of November, The Carter Center published the first part of "A State Affair: Privatizing Congo's Copper Sector", a comprehensive report on the contractual and financial practices of the Democratic Republic of Congo's state-owned mining company, Gécamines, and its most important investment partners. 
In the latest Magnitsky Executive Order issued 20th December 2017 one of the key personalities in the industry and a primary focus of the report, Dan Gertler and his Fleurette group of companies, have been sanctioned (click here for more information). The Financial Times wrote a follow up article on the story which can be viewed here.
ISLP volunteer Marietta Cauchi worked on the pre-publication review and is continuing to work on case studies for the report.
With characteristic humility she said "This is an excellent result for The Carter Centre" but we would like to thank her for her contribution and ongoing efforts- thank you and well done Marietta!
more:
less:
Global Reach
Over the past 17 years, with support from law firms, foundations and government agencies, ISLP has mobilized hundreds of experienced lawyers to provide more than $100 million worth of pro bono legal assistance in support of just, accountable and inclusive development in more than 80 countries.