ISLP Receives Liberia's Highest Honor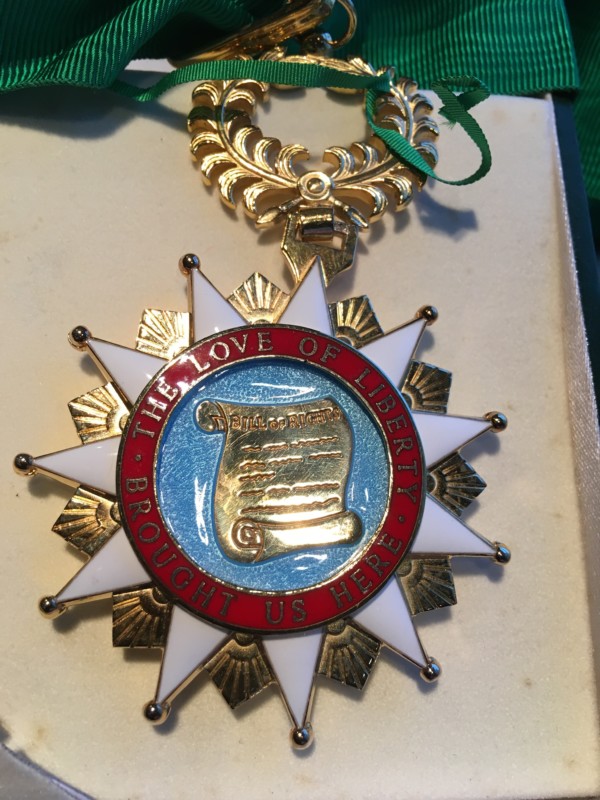 The government of Liberia recently awarded the International Senior Lawyers Project with the nation's highest honor for the strategic, systemic and comprehensive legal support the organization has provided Liberia over the past 11 years.
Liberia's President Ellen Johnson Sirleaf announced in a July 25 statement that ISLP had been awarded the grade of Knight Officer in the Most Venerable Order of the Pioneers of the Republic of Liberia. "The support of the International Senior Lawyers Project strengthened Liberia's confidence and put Liberia in an advantageous negotiating position, which facilitated the rewarding reforms of many sectors," said President Sirleaf. "The high-quality products of these negotiations have assisted in setting Liberia on the path to a full and irreversible recovery and development transformation."
A lack of legal capacity can be a huge barrier to economic and social growth for developing countries like Liberia. Laws and regulations are often out of date and governments can find themselves negotiating at a disadvantage with international investors due to a lack of access to world-class lawyers and the exorbitant cost of engaging outside legal talent. And in situations like Liberia's, where the extraction of natural resources financed the country's protracted civil wars, reforming governance of natural resources to ensure that they contribute to sustainable development is especially critical.
"When ISLP first began working in Liberia, the government faced the extraordinary challenge of building a country ravaged by war and crippled by debt," said ISLP Executive Director Katherine Mulhern. "By mobilizing rapidly to deliver specialized legal advice, ISLP provided critical support to Liberia from the first days of President Sirleaf's government beginning with the renegotiation of their most important investment agreements and then expanding outward."
Since 2006, more than 140 ISLP volunteer lawyers have provided 35,000 hours of wide-ranging pro bono legal support to the democratically elected government. ISLP helped negotiate 15 major investment agreements for agricultural, mining and infrastructure projects to help the government stimulate the economy. The organization also provided assistance on important tax matters and helped the government update laws and regulations regarding public health, mining and petroleum. In addition, ISLP aided in the country's successful admission into the World Trade Organization last year and successfully defended the government against litigation resulting from the reversal of the investment practices of the previous regime.
"It is with pride and gratitude that we accept this honor for our efforts to support Liberia and its citizens," said Joe Bell, the initiator of the Liberian project and now ISLP's Chair. "Since the end of the civil war, Liberia under President Sirleaf has made great strides in governance, reconstruction and effective use of its natural resources. All of us at ISLP are honored by this recognition and look forward to continue working with the government to contribute to the country's success."